"Boots Country" Karaoke
What Is Karaoke?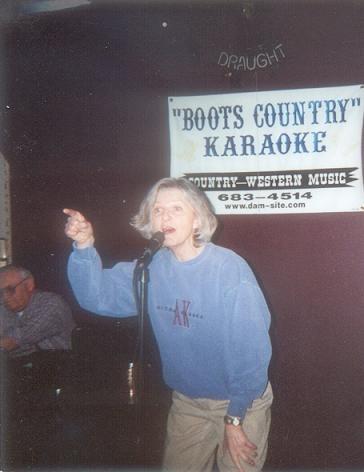 Karaoke (properly pronounced "car-ah-oh-kay", but Americanized to "carry-okee") loosely translated means "empty orchestra" in Japanese. Although it blossomed in Japan in the 1970's Americans started singing along with Mitch Miller and the "bouncing ball" in the 50's. So Americans have been doing "karaoke" for over 40 years-we just didn't know it! Sound Choice began in 1985, as Sing-a-Song Recording Studios, providing sing-along fun for thousands through its miniature recording booths in theme parks across the United States. Sound Choice has now evolved into the leading supplier of karaoke/sing-along software for the consumer and commercial markets.
Sound Choice karaoke puts you in the spotlight singing along to high quality, fully orchestrated instrumental versions of your favorite songs. A karaoke system provides the musical accompaniment and background vocals along with high-lighted lyrics. The lyrics change color in time with the music, indicating when you are to sing. This modern version of "follow the bouncing ball" helps keep singers in sync with the music. To get started, all you need to do is pick out a song you want to sing, fill out one of the request slips and give to your host or put your name and song selection on the sign-up sheet provided by your host. You will be called up to "grab a microphone" and sing the lead vocals 'live" to your song selection. It's fun and it's easy. You don't have to have a good voice to give it a try and enjoy yourself. Although you will probably hear some very good singers during the show, they probably practiced on their own systems at home. Remember, karaoke is first and foremost about having fun. So come on and join in!